Friday, August 31, 2007 ;
10:40 AM
I was soo drunk last night! Singing songs out loud, like "I don't wanna close my eyes", "心太软" and some others i just forgotten. I ran and tried to kick at the pole, trying to make the light go out. Jumping and hitting road signs with my hand, grabbing tree branches (@.@')
Really got nothing to say about that, no comment lolx! After that, I started to have some urge to do other things also.. but cannot say here haha! Let's just say it's more of a daring thing to do rather than something criminal. But then, I still got control wan ~ But then hor, regretted I did not do it ahahahah!!
I just woke up, surprised to find that my sink smells like vomit. After a close look, my sink is clean. Lucky I still got the sense to clean up. But then, my Chicken Gourmet chips and chicken all down the drain!! Wasted!! >.<
But then, this night is really interesting. A lot of people are doing something they rarely ever do, like me drinking half a pint in one gulp <-- oO, getting themselves lots of tequila shots, abscene (did I spell it correctly? lolx! But anyway, it's 75% alcohol thingy, crazy!), then also scenes of Don getting a bit wild, Barney going for another night drunk, Zhong getting himself to win as much beer as he can, Eun Hae and her slow sense again! But what is interesting is that, 3 guys here were this crazy, because they wanna forget about their sorrows, and it's the same few people again!
Wait, the funniest thing is this. We did not land ourselves in the pub to drink, it's to celebrate Jia Yun's birthday! XD
light my way ♥
Monday, August 27, 2007 ;
1:37 PM
This should be my last year in Ursula Hall, so I decided, might as well go for the annual college ball. It's called Simply Irresisti-ball! Lolx! Whatever la. And also now that I'm earning some money, I also thought that I should go out as much as possible, so there goes a lot of my money, into suits, gifts, and flowers! 3 digits, but it's so easy to earn them back in a week! People should work here, money is like growing everywhere, waiting for you to pick them up!
Anyway, I somehow felt like I brought myself into it, all I did was just to ask her out as my date, and the whole Asian community sprung into some kind of action. I did not know too much about last year, but my seniors said that this year's ball is very different, as if the guys are out to ask girls as their date.
Frankly speaking, I myself have only been to 1 ball before, and even then, I had better experienced people to look out for me. Right here, it's me and a bunch of beginners too! The more experienced people could only drop by for few hours days before the ball to help, and although it's a great help, but I could only fend for myself at those last minutes where I'm rushing. Stupid tie!
That tie cost me lots of time, and in the last fervent moment to get it right, I just forget about it, do it roughly correct and went out to get my date, with flowers ;p
So this is how I look then!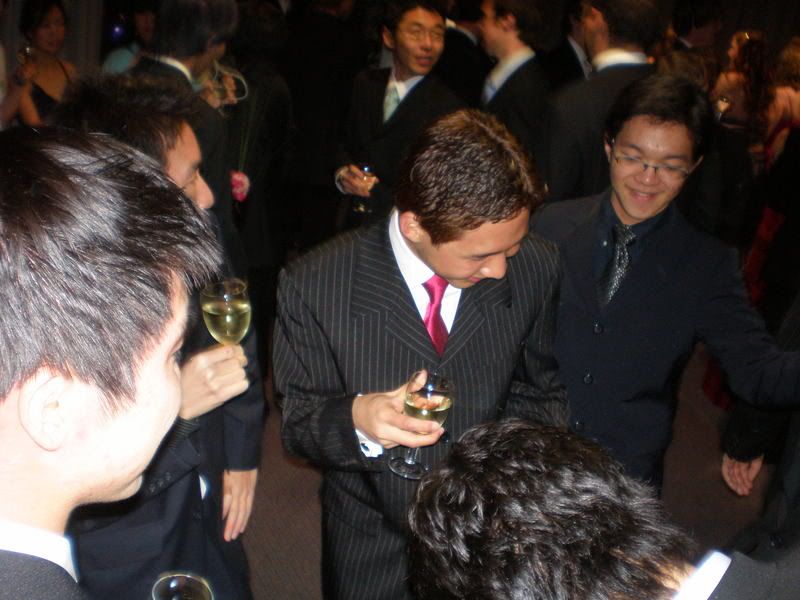 The group table had already been decided. The funnier thing is that, well, some seat changes had to be done due to sOMeoNe's last minute date >.>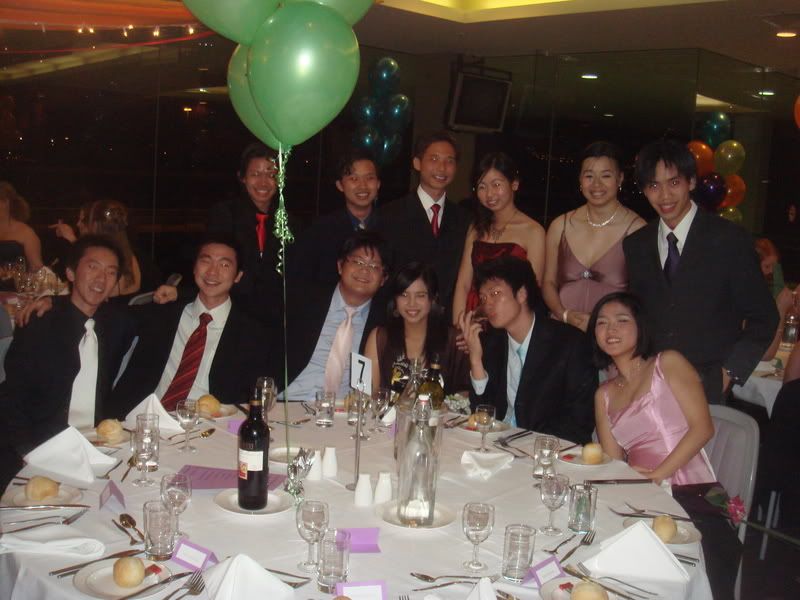 The dinner was spectacular, I would feel that the $60 bucks was well spent if I don't have a date.
The medium rare steak, with the wonderfully stewed potatoes, crunchy brocolli, and that tender-crunchy mix made me asking for more! (Okay, I'm not so good at writing food reviews >.>)
This time, with a bigger bunch of crazy Asians, someone started the wedding "Yam-Seng" event.. Which eventually proved contagious and competitive... oO
When the time for photographs came, the girls wanna show off their exceptional beauty...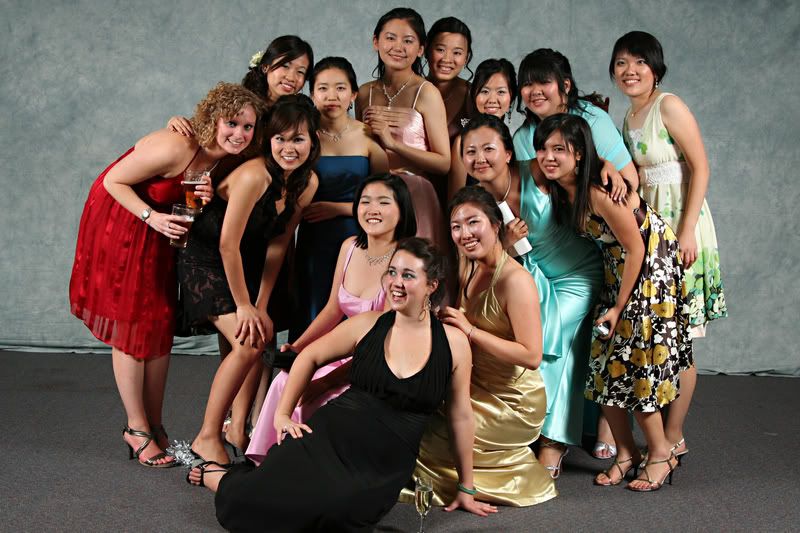 But the guys aren't going to lose so easily!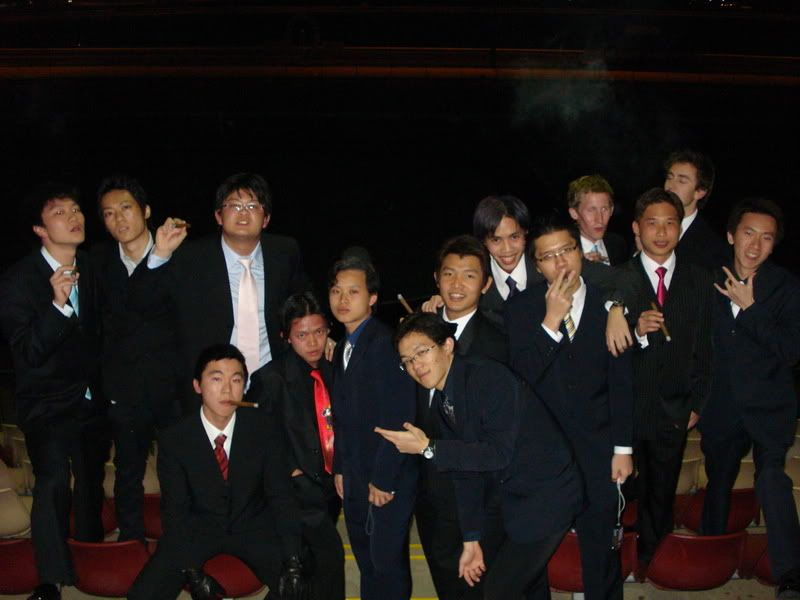 The original 6 member cigar group, with cheap EU made cigars ;p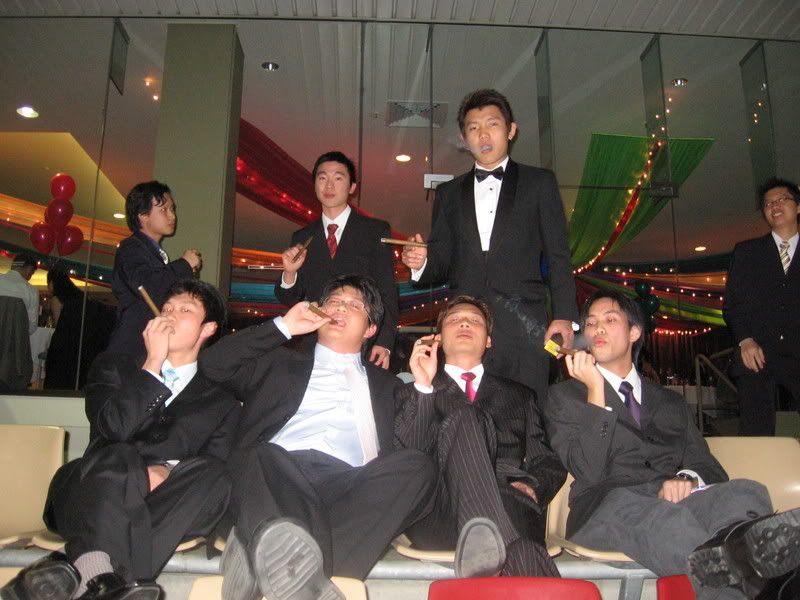 Let's end this post with the series of "Yam-Seng" videos!
light my way ♥
Tuesday, August 21, 2007 ;
4:53 PM
Just last Sunday, I'd just attended one of the most fun charity run in the world aka City2Surf in Sydney. Initially I thought, running around the city with a huge bunch of people, with the roads so packed, how fun could it be? Well, I was surprised by the things people come up with to make things fun! Dressing up as a fairy, carrying a balloon rhino, creating a cardboard train, dressing up as a weed, bear, running drunk, spraying water, bands playing, top naked guys... so many crazy things that it's easier to look at those photos from Sydney Morning herald website.
I went there with my college group, my in-house sensei (a Japanese lecturer staying over, a year since) ran the competitive league, while us useless runners ran the casual have-fun section, and we really do just that!
To give an idea of how many people there are... if you want exact numbers, these pictures only captures part of the 65,713 people!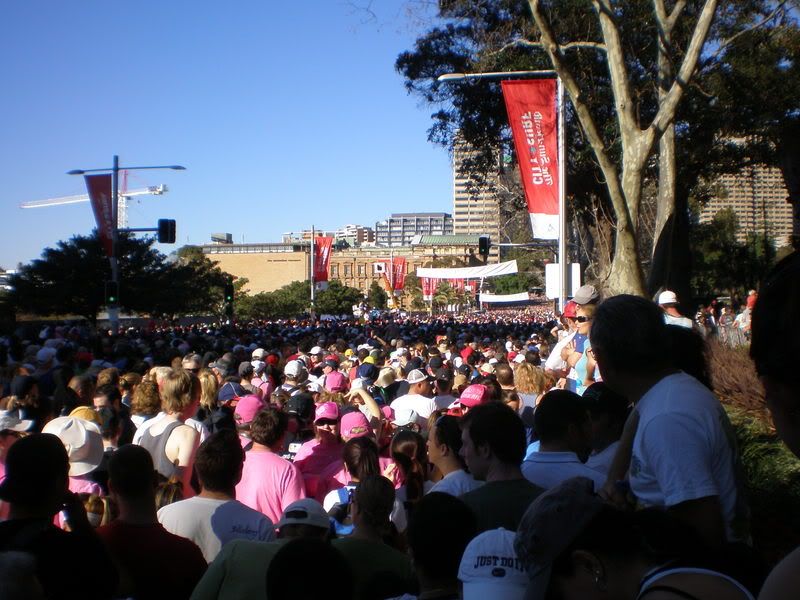 We started out somewhere in the middle of the, Soul Back of the Pack. A nice cool way of saying the last people lolx! However, defying all expectations to actually participate, we actually went on a small detour to McDonald's for breakfast! And by the time we came back, we returned just in time to overtake the last police car checking for leftover people ;p
So, the road is so empty!! And I'm still eating my hash browns kekekeke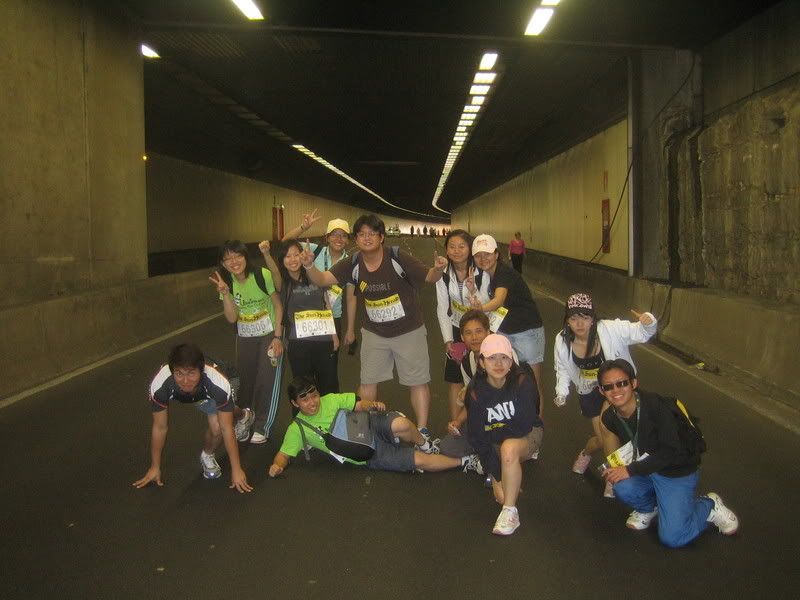 Now that there aren't many people around, we had the whole time in the world to pose for pictures at 'significant' landmarks!
We finally reached the 4th km mark! Everyone!! Show it out!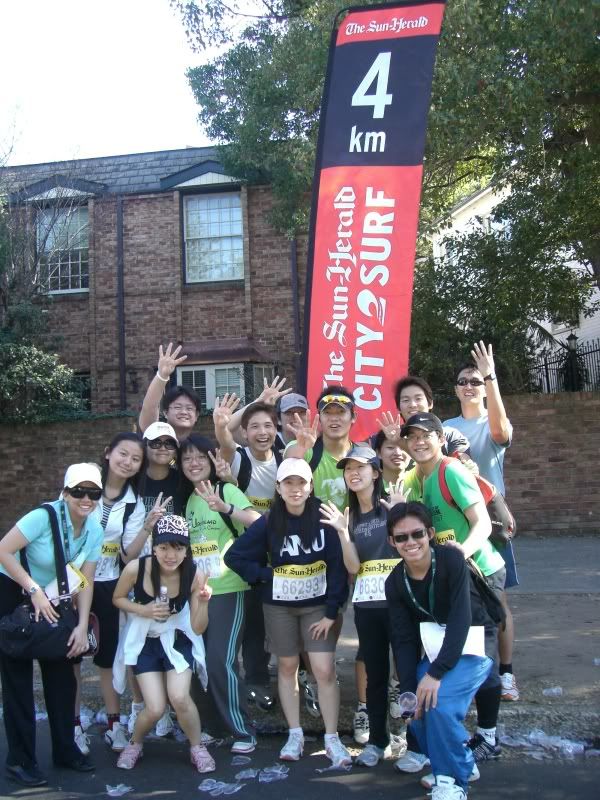 Halfway mark!! You can do it! Just another 2 more hours XD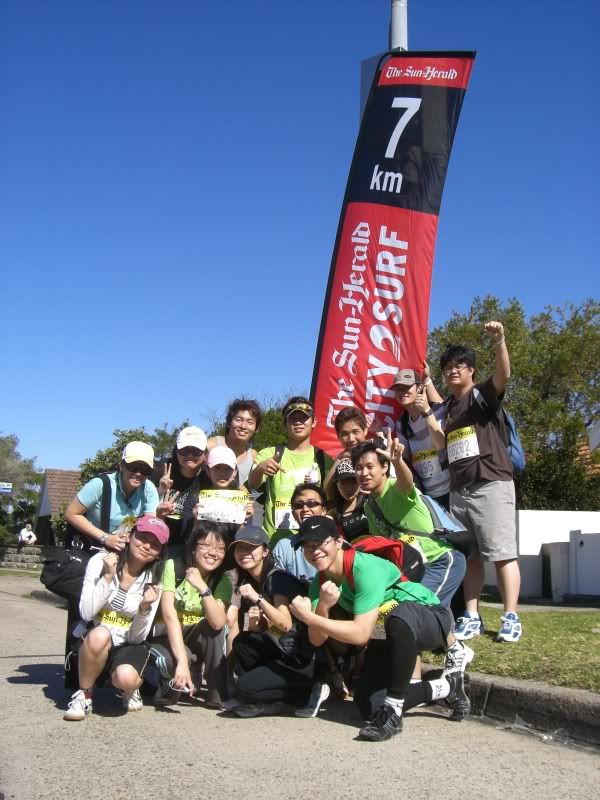 The Flags of our Fathers...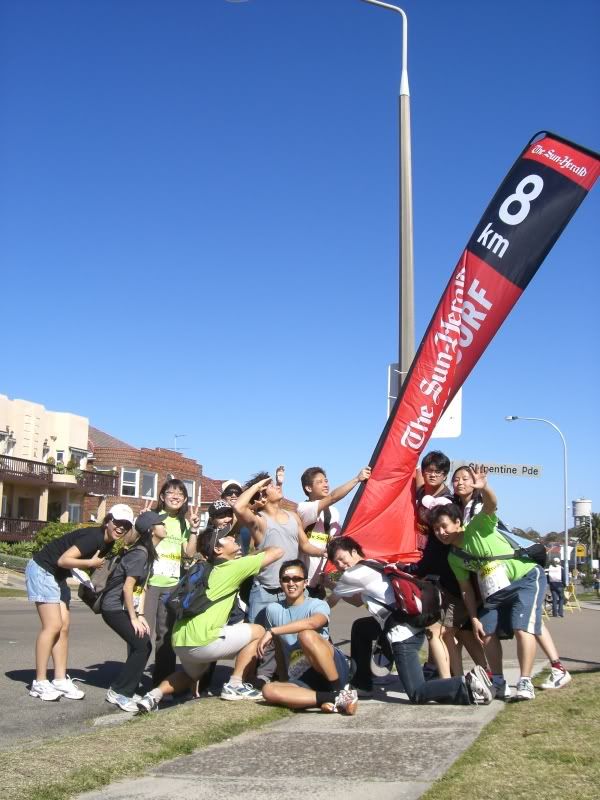 Now the funnier things we did...
Holding hands through the shadows...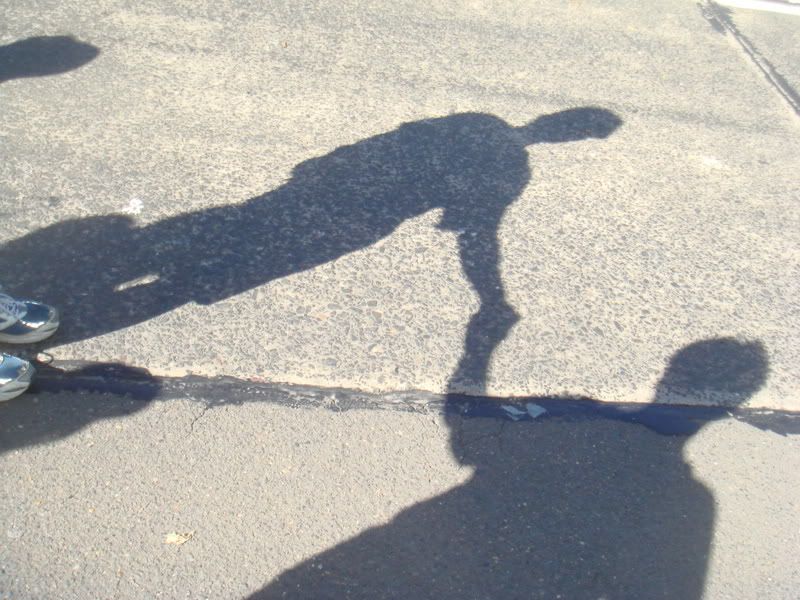 Huh! This run is not enough exercise!!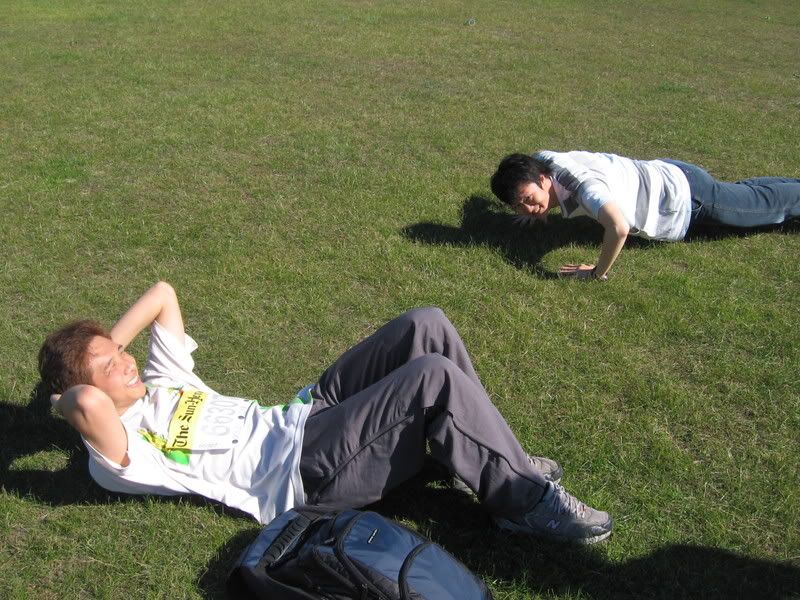 Haihz, only get to drink water after seeing two such streets.... We were so late that they are already packing up! >.<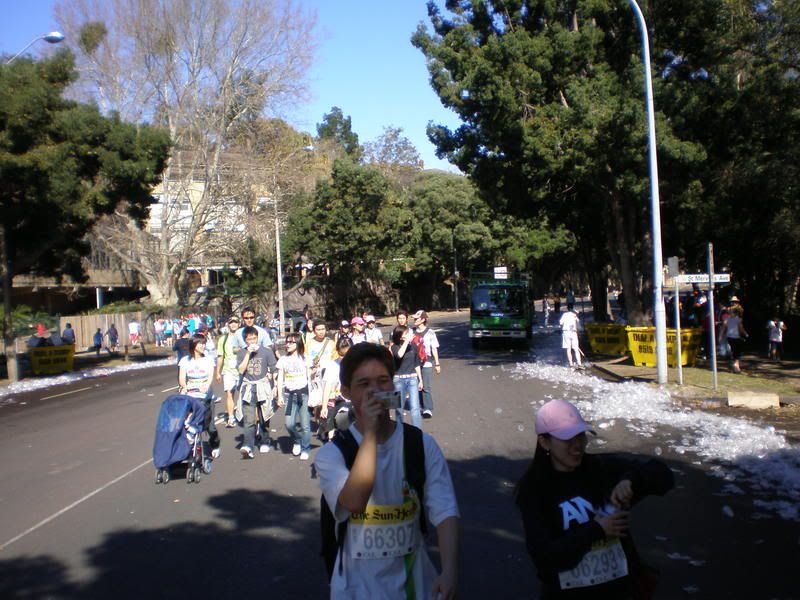 The end point.. Bondi beach!! Woohoo!!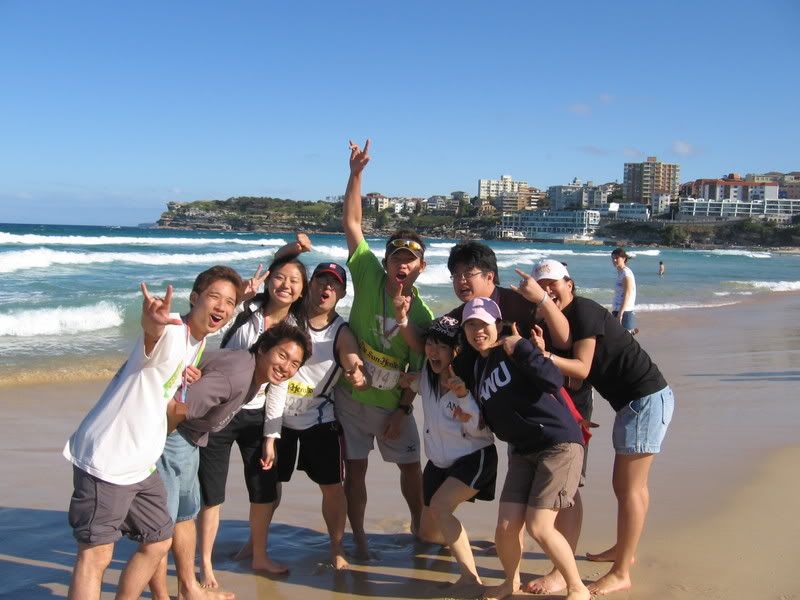 How we look like at the finish line. So tired >.<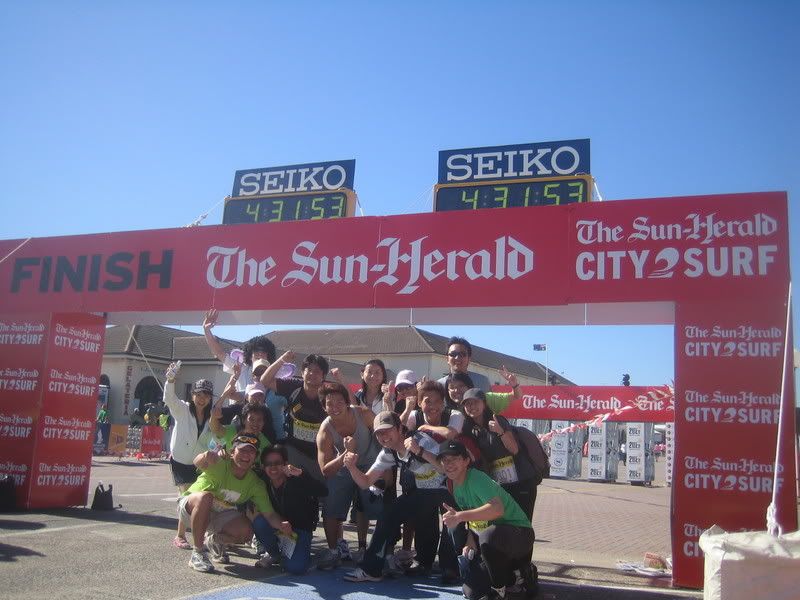 The Ursies City2Surf International group ;p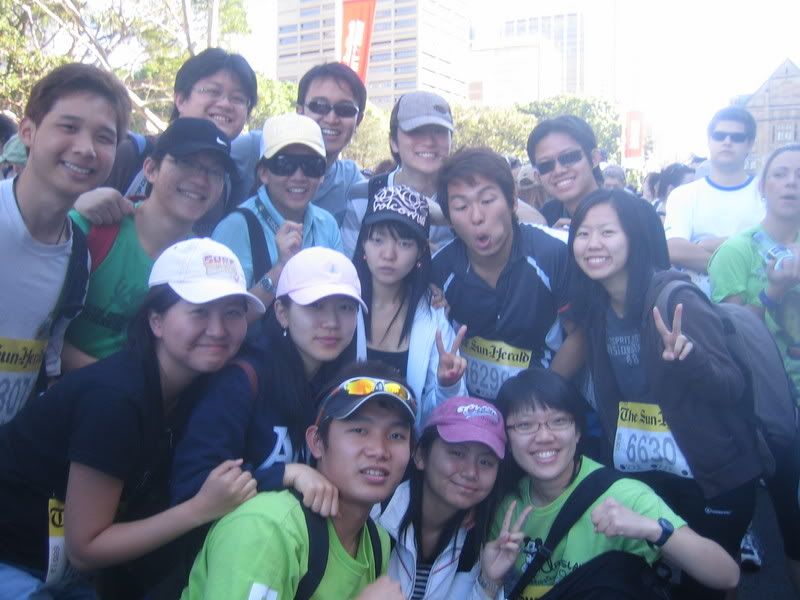 light my way ♥
Wednesday, August 08, 2007 ;
8:40 PM
This is how I look now ~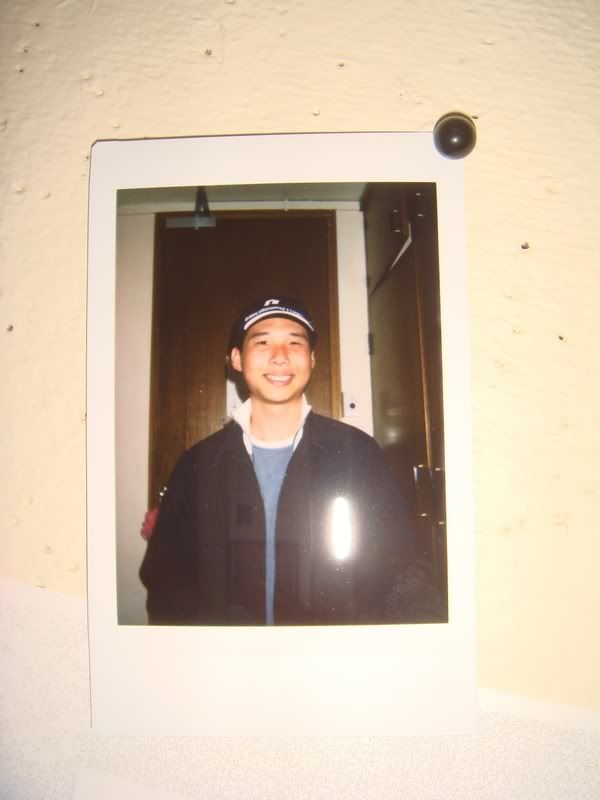 light my way ♥
Sunday, August 05, 2007 ;
3:31 PM
I was more or less browsing through posts I had written years ago in my blog.
I certainly did not believe back then that I'm still here after 3 years.
And i certainly did not believe what I wrote back then too.
The posts are so long. The words are so close together that it's hard work to read them. And finally, they are so philosophical. There was this post where I wanted to say that I made a serious mistake, which a few sentences would be enough, but then I wrote almost 1100 words.
I brought up things when
I was in primary school, my high school friends,
my in-game mates, things happening on the streets,
how I treat people, what is society,
what I wanted from others, how they treated me back,
my relationship with my girlfriend..
All those, just to say that I'm irresponsible, unsustainable and a heartbreaker.
I only have one comment: Haihz..
light my way ♥
Saturday, August 04, 2007 ;
2:38 AM
Come on yeah! Shower me with shifts to work!!!!!!!
light my way ♥
Thursday, August 02, 2007 ;
1:25 PM
Woot! Finally earned my KL -Sydney Air ticket!
Now I still got the other air ticket to go...
Ball ticket...
City2Surf ticket...
Year end $$...
spending money for use in malaysia...
light my way ♥